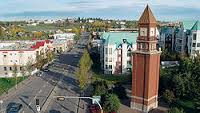 About St. Albert, Alberta
Founded in 1861 the city of St Albert is now the second largest city in the Edmonton Capital Region, and boasts a population of over 61,000 residents. Originally situated North several kilometres from the edge of Edmonton, it now has its city limits up against Edmonton due to a surge of development in the 1990's.
WeBuyYourHome.ca  offers an easy to use system to evaluate your Home, whether it's a single-family house, Condo or Apartment WBEH will make you a fast purchase offer or to help you list the click here.